Apple enthusiasts and tech aficionados are in for a treat with the M3 iMac, an evolution of its predecessor, the M1 iMac. What makes the M3 iMac stand out is its revolutionary M3 chip, which propels its performance to incredible heights. The M3 chip delivers a remarkable 2x speed increase over the M1 iMac, a staggering 2.5x boost compared to the Intel-based 27″ iMac, and an astonishing 4x leap over the Intel-based 21.5″ iMac. This makes the M3 iMac a true powerhouse, ideal for demanding tasks and creative endeavors.
Moreover, the M3 iMac runs on the latest macOS Sonoma and boasts an impressive memory configuration. The 8-core GPU model offers a range of options, including 8GB, 16GB, and 24GB of RAM and 256GB, 512GB, and 1TB SSD storage choices. For those with even greater storage needs, the 10-core GPU model comes with a capacious 2TB storage option. Additionally, there's a 10-core GPU version with 512GB of base storage, providing versatile choices to cater to your specific requirements.
The M3 iMac also offers enhanced connectivity. The 8-core GPU variant features two Thunderbolt 3/USB 4 ports, while the 10-core GPU model offers two additional USB-3 ports. As for design and aesthetics, the 24″ M3 iMac is available in a range of vibrant colors, including blue, green, pink, silver, yellow, orange, and purple. Whichever model you choose, you'll enjoy a coordinated experience with color-matched wallpapers and accessories.
In the world of wireless technology, the M3 iMac brings Wi-Fi 6E for lightning-fast download speeds and Bluetooth 5.3 to ensure compatibility with the latest Bluetooth accessories. Additionally, the 10-core GPU models support Gigabit Ethernet, a feature that can be configured on the 8-core GPU version.
The display is nothing short of extraordinary, featuring a 4.5K Retina Display with a resolution of 4,480×2,250 pixels and a brightness of 500 nits. The M3 iMac boasts a six-speaker system, providing an immersive audio experience with support for Spatial Audio and Dolby Atmos. For video calls and conferencing, the device comes equipped with a high-quality 1080p FaceTime camera and a "studio-quality" three-microphone array, ensuring crystal-clear communication.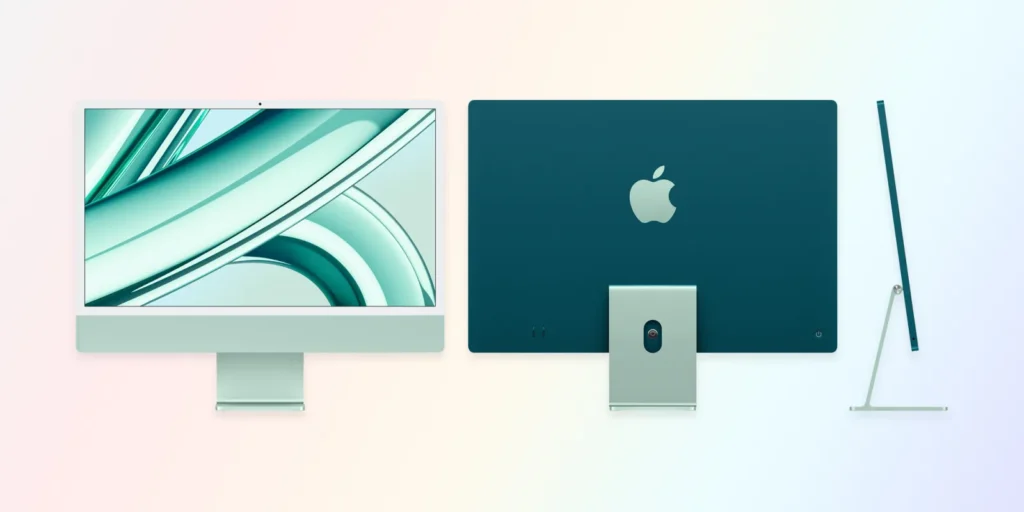 Notably, Apple's commitment to sustainability shines through in the M3 iMac. It is crafted with 100% recycled aluminum in the stand, rare earth magnets, and recycled tin soldering in multiple PCBs, with plating using 100% recycled gold—a remarkable achievement in eco-friendly design, setting a new standard for the iMac lineup.
The 8-core GPU M3 iMac is priced at $1,299, while the 10-core GPU model starts at $1,499. Both models are available for order on Apple's official website in 27 countries, with shipping commencing on November 7. Don't miss your chance to experience the future of computing with the new M3 iMac, a true masterpiece from Apple.
For more exciting tech updates, stay tuned to Tech Mansion, your trusted source for the latest in mobile technology and beyond.